Curriculum
Our values for learning and our curriculum | How then shall we live?
As a school, we have set our curriculum intent with our children at the centre. Our school curriculum intent builds upon the Bath and Wells Multi Academy Trust curriculum strategy which can be found here. https://www.bwmat.org/Education-Strategy-2021-25/
It is tailored to meet the needs of St Georges Church School & Nursery, its context within a small parish on the outskirts of a seaside town, and its pupils, an increasing percentage of whom are drawn from families who experience high levels social deprivation.
At St Georges, we are creating an inclusive culture, rooted in Christian values but also appreciating the importance of celebrating our multi and non-faith families in a socially diverse environment. Our vision that all things are possible with God encourages us to reach out across boundaries, building friendships and community with all people. We place emphasis on having common values and shared principles for life.
For children to grow into ambitious young people who are morally, spiritually and culturally aware, and who are able to contribute positively to society and the lives of others, we understand that our school ethos and curriculum need to be woven with understanding, acceptance and mutual respect.
Our school builds a culture of respect, responsibility, kindness and courage, where everyone is committed to quality learning and citizenship. School structures such as crew, community groups, exhibitions of learning and community work ensure that every person in our community is known and cared for, our young future leaders are nurtured, and contributions to the school and world are celebrated.
John Wesley, the founder of the Methodist Church, urged his followers to: "Do all the good you can, by all the means you can, in all the ways you can, in all the places you can, at all the times you can, to all the people you can, as long as ever you can." Inspired by this, everyone is supported to strive to do better and be better; to be the best version of themselves and to be more than they thought possible.

Our core Christian values underpin all we do at St Georges. The core values that were chosen by our community in September 2022 are woven throughout the life of the school.
At St Georges we are constructing a curriculum that will make standards come alive for children by connecting learning to real-world issues and needs. Academically rigorous, enquiry-led learning, projects, field work and serving the community inspire children to think and work as professionals, contributing to high quality learning with authentic audiences beyond the classroom. Adults talk less. Children talk (and think) more. Lessons have explicit purpose and intent which is visible to the learners. Children take ownership and responsibility for their next steps through a rich culture of ongoing dialogue and feedback. Through engagement strategies and precision teaching, learning is differentiated to maintain high expectations which bring out the best in all learners, cultivating a culture of excellence where everyone is in pursuit of being the best version of themselves.
Dimensions of 21st century learning at St Georges

At St Georges we know the importance of children understanding how they learn and what skills and dispositions they need to be able to be lifelong learners. We use ELLI (Effective Lifelong Learning Inventory) as a platform to help children to understand seven key dimensions of learning: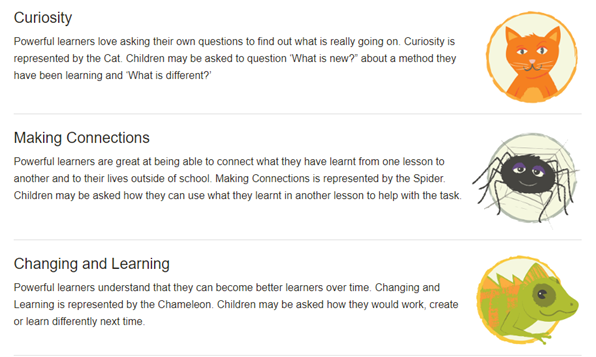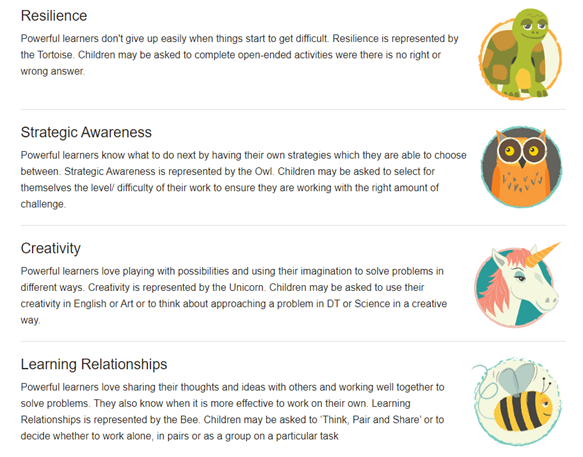 We value the role of working collaboratively with families in providing an education which supports children's mental health and wellbeing, as well as their academic achievement. Our home/school/child partnership is a vital part of our provision.
It delivers a broad range of creative learning experiences to develop children's moral, spiritual, social, mental, physical and cultural understanding through our Ready, Respectful, Safe values and the development of a contextually relevant curriculum.
Our curriculum provides both coverage of the National Curriculum and appropriate progression from EYFS to Y6, being flexible and responding to pupils' feedback, the evaluations of how well pupils learn and make progress, and in pupils' performance in external and internal assessments.
We work in partnership with the family of schools within the Bath and Wells Multi-Academy Trust.
We are continually reviewing and updating our curriculum to being our refreshed vision to life and are now in the process of updating our curriculum documents on the website. Therefore, the documents on each curriculum page may not be the most up to date. Please do ask in the office if you require further information for any curriculum area.
We follow Essential Letters and Sounds to teach phonics and early reading.
We have also been impacted by COVID-19 and therefore some classes may not have covered the units specified, or may be covering units and skills in a different order as some units are suitable for remote learning, whereas others need to be taught face to face.
When assessing the delivery of the St Georges Church School curriculum, the impact of further COVID related issues will be given due consideration. This will include the impact of any periods of full or partial lockdown and illness or self-isolation of pupil groups and staff.
Since September 2015 all children have followed the new national curriculum. This can be found by clicking here.
Children in the Early Year Foundation Stage (Nursery and Reception) have their own curriculum.
Information about the curriculum in individual classes can be found on that class page, or please do not hesitate to speak to your child's teacher for further information.